ZDDN-II Automatic Kjeldahl Protein Analyzer
Nitrogen Determination Apparatus Kjeldahl Nitrogen Determination System
Model:ZDDN-II
Nitrogen Determination Apparatus Kjeldahl Nitrogen Determination System
Characteristics:
1. Adopt microcomputer controlling process; include manual mode and automatic mode. Can be set and switched according to user's need.
2. Large array LCD display, touch key, easy to operate.
3. Automatically control distill, add water .control water level are cut off water supply.
4. Various security protections: digestive system security device, steam generator water shortage alarm, water level detection fault alarm.
5. Stored operation procedure quantity: 250
6. Instrument shell adopts specially made plastic spray steel. Working area adopts ABS anticorrosive board, Avoid chemical reagent corrosion and mechanical surface damage, acid proof and alkali proof.
7. Once detected fault, controlling system will power off automatically.
8. Digestive furnace is not included in standard configuration.

Technical parameters:
Measuring varieties: grain, feed, dairy products, drink, soil, medicine, precipitate, chemicals and so on
Working mode: automatic (titration is not included)
Water-in mode: tap water and distilled water
Sample quantity: solid: 0.20g-2.00g,
Semisolid: 2.00g-5.00g
Liquid: 10.00ml-25.00ml
Measuring range: 0.1mgN-200mgN (mg nitrogen)
Recovery rate: ≥99% (relative error, including digestive process)
Distillation speed: 5-15 min/sample (according to sample amount)
Cooling water consumption: 3L/min
Repetition rate: relative standard deviation <±1%
Power: AV 220V/50Hz, 1000W
Water supply: water pressure >1.5MPa
Water temperature<20°C
Shape size: 430×360×670mm
Weight: 25Kg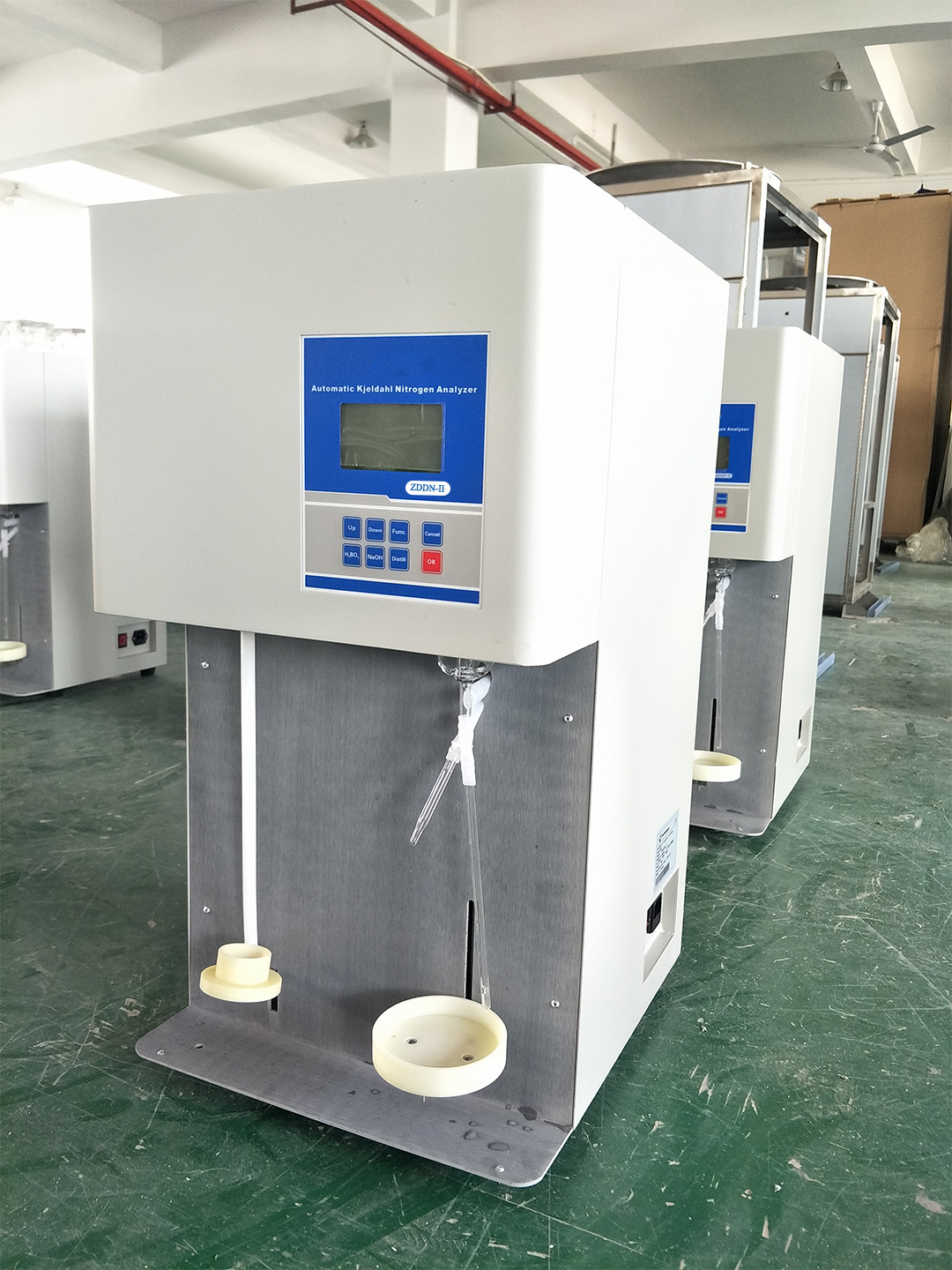 Contents of agricultural instruments
Nitrogen Determination Apparatus
Automatic Kjeldahl Protein Analyzer
Scan the QR code to read on your phone
We could not find any corresponding parameters, please add them to the properties table
Copyright © 2019 Shijiazhuang Qintong Imp&Exp Trade Co., Ltd.